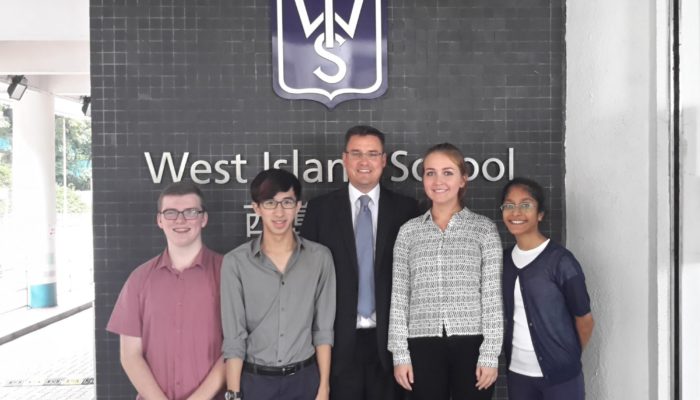 ESF welcomes new West Island School Principal

中文 (香港)
The English Schools Foundation (ESF) is delighted to announce the appointment of Mr Christopher Sammons as Principal of West Island School (WIS). Mr Sammons will succeed Ms Jane Foxcroft after her 31 years' service with ESF.
Mr Sammons has over 17 years of experience in leadership positions in education. He worked for ESF at Sha Tin College during the period of 1996 to 1998. He then moved onto Bartholomew School in the UK as Assistant Headteacher and then as Deputy Headteacher at Kineton High School, UK. His last position was the Principal at St. Katherine's School in Bristol.
Mr Sammons holds both a Bachelor degree in Economics and Politics and a Postgraduate Certificate in Educational Leadership from Oxford Brookes University, as well as a Postgraduate Certificate in Education (PGCE) in Business Studies from Worcester College, both in the UK.
"I am delighted to be the Principal of West Island School. The school is in a very strong position as a result of many years of dedicated leadership from Jane Foxcroft. With talented teachers and students, we will build on this success further and continue to serve the young people of Hong Kong and their families," said Mr Sammons.
"We are confident that Chris will provide excellent leadership at West Island School and will contribute significantly to ESF," said Mrs Belinda Greer, Chief Executive Officer of ESF.
"I would also like to thank Ms Jane Foxcroft for her dedication and hard work with ESF over the past 31 years," Mrs Greer continued. "Jane was a highly respected principal and an inspirational leader who made a difference. We wish her much happiness in the next chapter of her life."
WIS is a secondary school under ESF, which is a world class co-educational IB World School. The mission of the school is to encourage students' individuality; foster respect for difference and value learning from others within an international community school. WIS strives to inspire and support all students in achieving their individual potential for a successful life as responsible global citizens.
In 2016, a total of 13 ESF students scored the perfect score of 45 in the International Baccalaureate (IB) Diploma. Four of which were from WIS. The average score worldwide was 30.1 points compared to an average score of 36.2 for ESF students, which is the highest in all years.