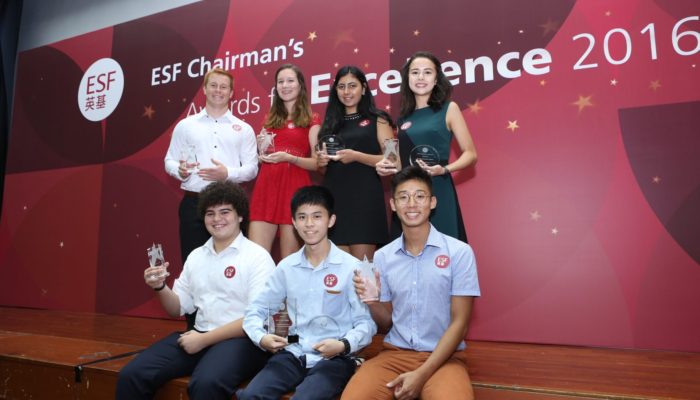 Over 200 graduates honoured at the ESF Chairman's Awards Ceremony (updated)

中文 (香港)
In the photo (from left to right):
Back row: Cameron SMITH, Hope OLIVER, Komal HARJANI and Natalia Cheuk Ling CHAN
Front row: Nicola AVITABILE, Anson Ki Chun MIU and Douglas TSUI 
The English Schools Foundation (ESF) held the ESF Chairman's Awards for Excellence 2016 Ceremony on 25 August to recognise the outstanding performance of 211 ESF graduates. They include:
38 students from 2016-17 Year 13 cohort with outstanding achievement in Leadership, Commitment and Contribution to Service, Embodying the Spirit and Values of the school, Sporting Achievement and Creativity;
156 students who achieved the International Baccalaureate (IB) Diploma with 42 or more points (or a Bilingual Diploma with 40 or more points);
32 students who achieved the equivalent of 420 or more UCAS points on the Applied Learning Programme.
Another highlight is the Carlson Tong Award to celebrate the distinctive performance of students who achieved the highest performance in the Bilingual Diploma. Three students received this special award. They have achieved the maximum 7 points for two languages, both of which studied as first language.
A press gathering was held before the ceremony and eight awardees shared their stories of school life and memorable learning experiences. More than 400 students, parents and teachers attended the award ceremony to celebrate the students' outstanding achievements.
ESF Chairman Mr Abraham Shek praised the students for their academic and wider achievements. "ESF has a tradition of excellence in academics, sport and cultural activities. Students leave ESF as confident, well-educated and internationally-minded individuals who are equipped to play constructive roles in our global society," he said.
Outstanding awardees share their stories
Seven awardees shared their study experience and interesting stories of their time in school.
Natalie CHAN Cheuk Ling (Sha Tin College) achieved 45 points in the IB Diploma. She has received the ESF Chairman's Award for Leadership and the ESF Chairman's Award for Commitment and Contribution to Service, as well as the School Spirit Award 2016 and Theatre Subject Award. She is going to the University of Bristol in the UK to study Theatre and English.
Natalia hopes to be a teacher in Hong Kong after graduation.
"As a student who studied at Sha Tin College, I had encountered many great teachers who inspired students such as myself to pursue their passions and excel in their studies. I hope that one day I will have a similar effect in shaping the lives of young people through education," she said.
Anson MIU Ki Chun (Sha Tin College) achieved 44 points in the IB Bilingual Diploma. He has received both the Carlson Tong Award and the Commitment and Contribution to Service Award. He will be studying Computing at Imperial College in the UK.
Nicola AVITABILE (South Island School) took the Applied Learning Pathway, which focuses on experiential learning and is for students who prefer a more practically oriented style of learning. He has received the Major S.M. Churn Memorial Business Studies Prize.
Nicola has co-founded his first enterprise at the age of 16 and obtained Privates Pilots License at the age of 17. He will be going to either the UK or Australia for flight training in pursuit of a commercial pilot career.
Cameron SMITH (Discovery College) excels at sports. He was awarded the Sporting Achievement this year.
Cameron has won gold at the Asian Youth Games in 2013. He is signed as a Junior Elite Athlete at the Hong Kong Sports Institute. He will read Chemistry in either the University of Bristol or the University of Bath in the UK.
Hope Noelle Oliver (Island School) achieved 43 points in the IB Diploma. She won the second in a public debate competition, which was organised by the University of Hong Kong last year, where the topic was the ethics of stem cell research. She will read Molecular Biology in the University of Queensland, Australia.
Komal HARJANI (King George V School) was nominated by the school to receive the Service Award. She will be studying Politics, Philosophy and Economics at the University of Warwick in the UK.
Douglas Tsui (West Island School) achieved 43 points in the IB Diploma. He has received the IB Visual Arts Award. He will be studying Architecture at the University of Washington in the US.
ESF announces nine more IB perfect scorers
ESF previously announced that seven students got the maximum score of 45 points in the IB Diploma examinations 2016. However, after successful remarks, eight more students achieved the perfect scores. ESF is proud to have a total of 16 IB full mark scorers.
They include:
Discovery College: Ariel GALOR and Zoe FRANKLIN;
King George V School: QIAN Yi Xuan Yvonne, Grace WANG, Jonathan Wong and Max LIM;
Sha Tin College: Natalia Cheuk Ling CHAN;
South Island School: Bryan CHAN, Garrick WAN, Wendy LEE, Ruxandra VASILE and Taufan Ariq Hidayatullah HATIBLE; and
West Island School: Howard Yoo Hyun CHAE, Karthik Ranganatha SUBRAMANIAM, Matthew YEUNG and Ankita MUTHYA.
First published: 25 August 2016
Updated on: 1 September 2016