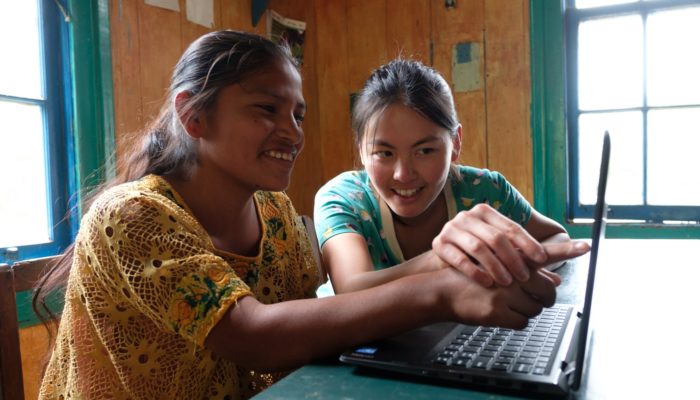 Woman in Tech – Clarice Chan
Designing Ambition
Looking back, it all makes sense. When Clarice Chan was a student at West Island School, she was fascinated by design, technology and storytelling. Now she is spearheading a unique initiative by Microsoft that uses tech to do social good. But the journey between those early days and her present-day career was anything but clear cut. "It was trial and error and experience," says Clarice from her home in Seattle.
"I was always a super creative kid," she recalls. Raised in Pok Fu Lam, she attended Kennedy School before moving on to West Island. When she was 10 years old, she told her parents she wanted to be a cartoonist when she grew up. "I remember watching a lot of TV, a lot of cartoons, and always being inspired by the arts and storytelling," she says. Her parents weren't impressed. "They said, 'Don't be silly!' And in classic Hong Kong fashion I started prepping for the SATs."
Clarice says she was not particularly studious. "I was never naturally academically gifted. I was a class clown, I was very unfocused." But she had a strong work ethic, and she credits her teachers with pushing her to do more. "The calibre of teachers at West Island was great," she says.
School support
It also helped that Clarice never lost sight of her passions. She loved her drama classes at West Island and she soon got hooked on Design & Technology. "The Design & Technology programme in West Island was where my passion for products started," she says. "We were exposed to laser cutters, CAD, CAM, we had a full lab and workshop resources to make things with. Looking back it was surreal." Later, when she went to the University of California, Los Angeles, she realised the university labs had fewer resources than West Island. "I thought, 'Holy cow, what we had in Hong Kong was wildly superior.' It made me realise that having such a hands-on maker culture really spawned my interest in doing it."
By the time Clarice reached her sixth year of secondary school, she realised that as much as she loved drama, she wasn't interested in becoming a professional actor. So she switched to visual arts instead. "That was an interesting pivot," she says.
"It's never too late to context switch. I've done that so much in my career and one things leads to another – and eventually it all comes back together."
A storyteller's dream
Art turned out to be a revelation. Clarice decided she wanted to study it in university, but her parents worried it wasn't a practical choice. "They said, 'You can't go to an art school – but you can do an arts programme at a four year college, just in case the arts thing doesn't work out," she recalls.
That ruled out institutions like the Savannah College of Art and Design or Rhode Island School of Design, but Clarice still had plenty of options. She eventually narrowed down her choice to UCLA's Design Media Arts, an unusual programme that blends art and design. After testing out the course in a two-week summer trial, Clarice fell in love with it. "It was very experimental, very cutting edge," she says. "The dean said,
'We're training our students for jobs that don't exist.'
That was the opening line. I remember thinking, 'This is it. This is where I want to be.'"
Clarice's early days at UCLA rekindled her childhood ambitions to become a cartoonist. "I was totally going to work at Disney or Pixar and become an animator," she says. But when she applied for animation internships she was met with nothing but rejection. "It was a little bit of a shock to the system," she says. "That's when I knew I had to work really hard."
Hard work pays off
The next year, Clarice "went guns blazing," she says. "I stacked up my portfolio and tried to apply to as many relevant student organisations as possible." Her effort paid off when she was named art director of UCLA's annual jazz festival, the largest student-run music festival in the United States. That led to an internship with Disney in New York, where Clarice worked on producing visuals for Broadway shows. But it wasn't what she had expected. Rather than telling stories, she was doing drudge work in an industry dominated by people who weren't particularly nice or creative. "The bubble just sort of burst for me," she says. "Show business was awful."
That led to another detour. Clarice's next internship was for Adobe. "It was another great happy accident," she says. "I realised wow, why haven't I considered technology?" After that, she worked at NASA, where Clarice helped design a user interface for the Mars rover. Eventually, she landed a job with Microsoft, where she worked on a team that designed a new web browser.
A revelation
But things came to a head last year after the contentious American presidential election. Clarice wondered whether her time would be better spent working on projects that had a positive social impact. "When the election happened, I went to one of my executives and said,
'Hey, I think I'm ready to leave the company. I want to make a bigger impact,'
" she says. "I think really smart people should be working on important problems."
The executive made her an unexpected offer: use Microsoft's ample resources to help address the world's urgent social problems. "I'm really impressed that an old legacy company like Microsoft is willing to invest in social good and supporting a person like me in spearheading this initiative, not looking for some 20-year veteran," says Clarice.
Working for good
Now she is running Social Good for Windows. She can't reveal any details about the projects that are currently underway, but her team has already completed an initiative that offers a new software tool to improve literacy in rural Guatemala. Clarice feels like she has finally brought all the threads of her life together. "I never wanted to design to make things pretty – I designed to make things better for humanity," she says. "The community we grew up in at West Island gave me such ambition to move things forward. A lot of people I meet don't have that sense of urgency."
In hindsight, it seems like every step and stumble was leading to this place. "My advice is to try everything," says Clarice. "Something might be really different to what you think it is. Or the other way around – something really boring might turn out to be interesting. You won't know until you try it.