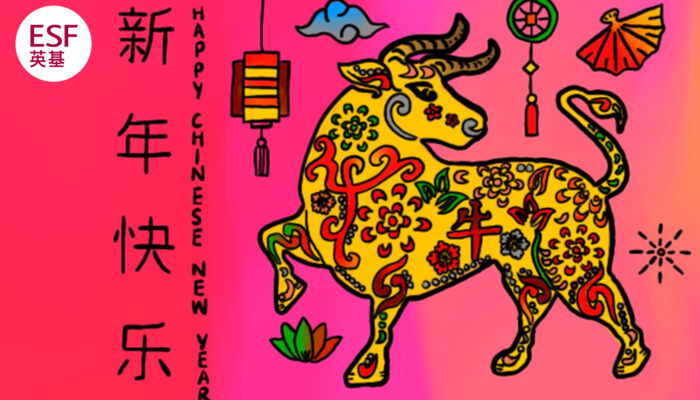 YEAR OF THE OX VIRTUAL GALLERY & E-CARD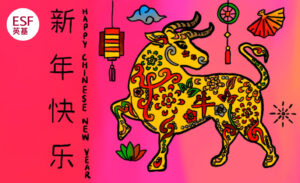 Positive and conscientious – these are just two of the characteristics embodied by the mighty ox, the second animal of the Chinese zodiac.
These admirable qualities are shared too by our amazing students who put tremendous effort and joy into the artworks they submitted for our upcoming ESF Year of the Ox Virtual Art Gallery.
This online exhibition features 330 greeting cards and artworks created by talented students from 18 of our schools. The gallery opens for public viewing from 5 to 26 February and can be accessed here.
Each student's artwork was also put forward to be our ESF Year of the Ox E-Card. All ESF staff were invited to vote and Annabelle from Sha Tin Junior School topped the polls!
"The Ox celebrates the new year by wearing a Chinese New Year outfit," said Annabelle. "It's gold in colour and decorated with Chinese New Year flowers."
Speaking ahead of the exhibition launch, ESF CEO Belinda Greer said: "The ESF Year of the Ox Virtual Art Gallery and card is a wonderful way for the whole community to come together to celebrate the Chinese language and culture that plays such an important and integral part in our daily lives and to witness the tremendous talents of our students.
Our mission is to inspire creativity and it is incredibly rewarding to see our students creating imaginative and joyful artwork to such a high standard.
I look forward to sharing Annabelle's vibrant design with my friends and family in Hong Kong and around the world and spending time in the virtual gallery admiring every student's thoughtful creation. I am simply bursting with pride at what is being achieved by our amazing students and exceptional staff."
You can find this imaginative young artist's inspiring design attached. Please click on the image to download it.
We hope you will enjoy sending this heart-warming card to your colleagues, contacts, family and friends.