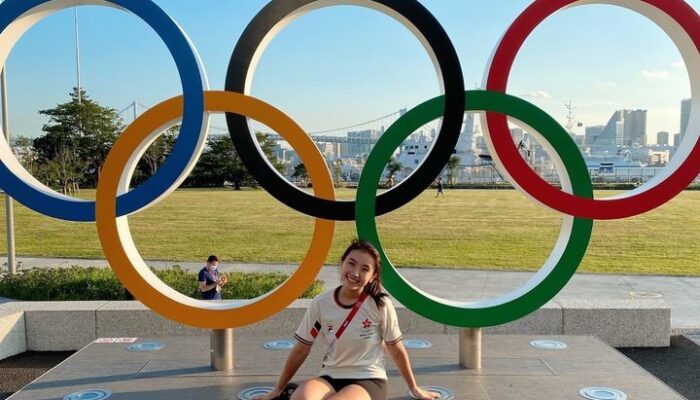 ESF Alumni Olympic Athletes Make Us Proud!
Huge congratulations to all of our ESF Alumni who took part in the 2020 Tokyo Olympics. Competing in fencing (Hong Kong's new favourite sport), swimming, field hockey and eventing, our six alumni all did brilliantly and made us so proud!
Thomas Neill, alumnus from Kennedy School, won a Bronze medal in the 4 x 200m freestyle swimming and helped Australia return triumphantly home in third place after the UK and Russia. Well done to Thomas!
Sha Tin College had a slew of sporting talent, with Moonie Chu, Vivian Kong and Kaylin Hsieh all competing in the women's team épée and placed 7-8, while Vivian Kong was placed 7-8 in the women's individual épée, eventually conceding to Aizanat Murtazaeva from Russia.
Antoni Kindler also from Sha Tin College represented Canada in men's field hockey as goalkeeper where the Canadian team fell just short of qualifying for the quarterfinals against Belgium.
Islander Thomas Heffernan Ho rode the beautiful Tayberry in the equestrian events – the first Hong Kong Event Rider to qualify the Olympics – to come in at 42. 
It's not just on the field that our alumni shine as Island School's Tina Sharma was the PR and Communications Manager for Olympic Culture and Heritage and Gary Claydon also from Island School reprised his 2016 Rio Games role as team doctor to the Australian Men's Hockey team (the Kookaburras) and also the Women's team (the Hockeyroos).
Speaking to RTHK this morning, ESF's Chief Executive Belinda Greer highlighted the importance of the role of the school in supporting students reach their sporting dreams.
"It's clear from watching the Olympics how much pure determination and grit all the athletes showed in competing. For the school, playing such an active part in student progress, having a partnership with the students and their parents really helps in making a difference to their success."
ESF works closely with the Hong Kong Sports Institute (HKSI) and the World Academy of Sport (WAoS) which means our students don't have to compromise on either their athletic training or academic studies. 
Kaylin was one of the first HKSI Elite Athlete graduates in 2018 – click here to read more!
Listen to Belinda's interview on RTHK Backchat on the link here (starting from Part I 16'37")