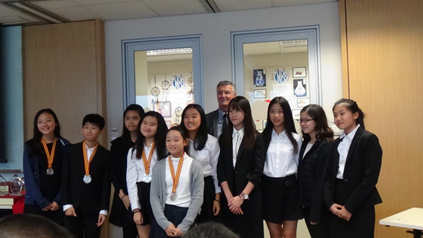 ESF Students Showcase Trilingual Talents in Debating
ESF successfully hosted the Chinese-English Bilingual Festival on 29 to 30 March 2017. Over 120 students represented seven ESF and non-ESF international schools contested in Putonghua-Cantonese and Putonghua-English bilingual debates. Students learning Chinese as a foreign language competed in Putonghua-English bilingual storytelling and recitals.
Multi-lingual competence is rightly seen as an increasingly important attribute in today's interconnected world. We were grateful to see many young bilingual/trilingual speakers showcase their language talent during these two days.
This event was a part of the ESF 50th Anniversary celebration as well as a prelude to the upcoming Asia-Pacific Chinese-English Festival in Shanghai on 12 to 13 May 2017. All ESF schools were among the Top Six Chinese-English Bilingual Teams. South Island School championed the Putonghua-Cantonese Debate. ESF students won 11 individual places, including Li Sum Chuen, Ariana Jones and Ritika Vaswani, all from Renaissance College, as Best Bilingual Speaker, 1st Place in Story Telling and 1st Place in Recitals respectively. Congratulations to all!