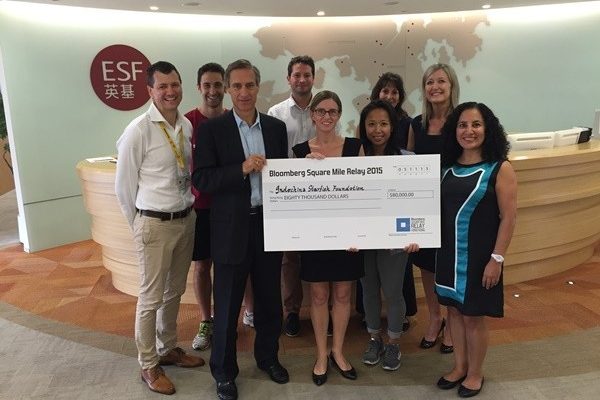 ESF donated HK$80,000 prize to Cambodian disadvantaged children
English Schools Foundation (ESF) participated in the Bloomberg Square Mile Relay for the second time this year and won the first prize of HK$80,000. The fund was donated to the disadvantaged children in Cambodia to support their education.
Bloomberg Square Mile Relay took place on Thursday, 5 November 2015, with a total of over 120 teams participating. Three of the teams were from ESF. ESF Team 1 finished the race in a time of 51'51, outrunning last year's champion by less than two minutes, and successfully won a prize of HK$80,000. ESF's first runner, also the Vice Principal of Clearwater Bay School, Brendan Kean ran the fastest mile in just 4'43.
The other two ESF teams managed to finished the race in a time of 57'48 and 1'07'04, finishing 8th and 41st overall.
Being the largest provider of English-medium international education in Hong Kong, we believe that every student has the equal rights to education. Hence, the fund will all be donated to Indochina Starfish Foundation, an international charity which helps the poorest and most disadvantaged children in Cambodia.
"The prize of HK$80,000 was donated to the Indochina Starfish Foundation in Cambodia and will be used to purchase resources and facilitate training for the two schools that the foundation runs. ESF teachers have been actively supporting this foundation for two years and this continues our commitment to what we believe is a remarkable charity making a real difference," ESF Senior Education Officer David Fitzgerald said.