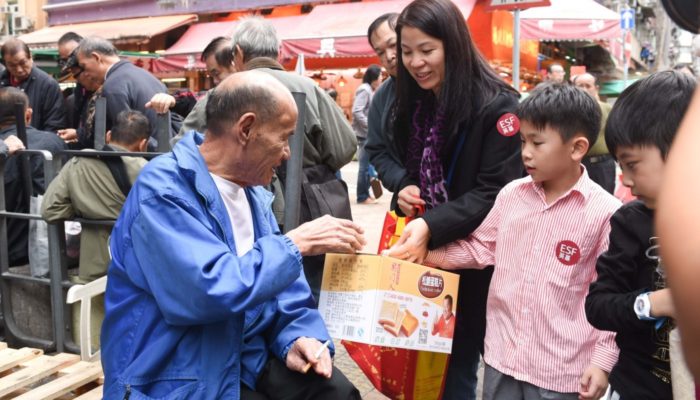 ESF students organised a food distribution day to help the needy
English Schools Foundation (ESF) Sha Tin Junior School (SJS) organised their first ever Food Distribution Day today. Students and their parents distributed food and necessities, and even self-made scarves to elders and those in need in Sham Shui Po, bringing warmth to the community with Christmas fast approaching.
Over 260 families have participated. To encourage healthy eating, each food pack, which is worth HK$200, includes grains and cereals (1kg package of rice, noodles, bread, biscuits and oatmeal), as well as fruits (bananas and oranges); while necessity items include toothpaste, toothbrush, towel and soap.
One of the students, Janice Mang, started a lunchtime knitting club at school especially for this event. Scarves are made and delivered to elders and those in need as the weather is expected to get colder.
The event is part of SJS's "Community Sundays" programme. The purpose is to encourage students to understand and care more about society, as well as develop their sense of responsibility as citizens.
"The SJS 'Community Sundays' programme enables young people to develop a sense of social responsibility and become involved in their community. SJS learners will engage in authentic experiences where they will connect, communicate and collaborate with their home/host country of Hong Kong," said Komal Daswani, Year 6 teacher of SJS, who is also the person in charge of today's event.
Reflection sessions will be carried out after the event, where participants are encouraged to provide feedback and thoughts about their experience and learning.