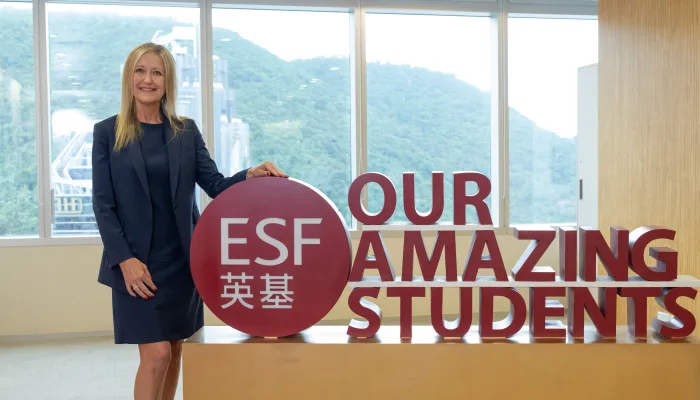 ESF ANNOUNCE RESULTS OF IB EXAMINATIONS 2023
The Chief Executive Officer of the English Schools Foundation (ESF), Belinda Greer, today said that the set of results achieved by ESF students in the International Baccalaureate (IB) exams are exceptional and of global significance.

The ESF results are summarised as follows:
| | |
| --- | --- |
| | ESF RESULTS (MAY 2023) |
| Total number of candidates presented | 861 students  |
| Total number of eligible students awarded the IB Diploma | 844 students (98.0%) |
| Average point score | 36.1 (global average 30.2) |
| Total number of students awarded the bilingual Diploma | 93 students |
| 45 points | 8 students (global figure 179) |
| 40 points or more  | 269 students (31.2%) |
| 35 points or more | 547 students (63.5%) |
| 30 points or more | 762 students (88.5%) |

Speaking about the results, Belinda Greer said:
"These results are a testament to the dedication and perseverance of all of our students, their families, and the expertise of our highly-skilled educators. 
"ESF is proud to have been a part of their academic journey. We have provided them with an unparalleled education that has prepared them for success from kindergarten through to their final exams – even during the most challenging of times.
"These results not only reflect well on ESF, but also contribute to Hong Kong's reputation as a city that values a robust educational system. Such achievements play a key role in attracting new talent to the region and serve as evidence of the quality of education available in Hong Kong. 
"Our main focus, of course, remains the success and growth of our students. We work every single day to ensure they receive the knowledge and skills necessary to achieve their personal goals and which will serve them well into the future.
"Today, we celebrate the accomplishments of our students and reaffirm ESF's commitment to providing personalised quality education to every child entrusted to our care. We have made a firm promise to help each and every one of our students be the best that they can be. These results show that we are fulfilling that promise."
Dr Kim Mak, Chair of the ESF Board said:
"I am incredibly proud of all of our students and all of the ESF schools. The results that we have seen across the board have been nothing short of remarkable.
"ESF has once again demonstrated its position at the forefront of global education. This has been achieved through the extraordinary efforts of our students, the support they receive from their parents, and the high standards of teaching and learning on offer in all ESF schools. This is something that all members of the ESF Board take great pride in.
"The comprehensive nature of all of our students' achievements is notable and impressive. I extend my heartfelt congratulations to all of our students and wish them continued success in their future endeavours."
Click here for Chinese version.
ENDS