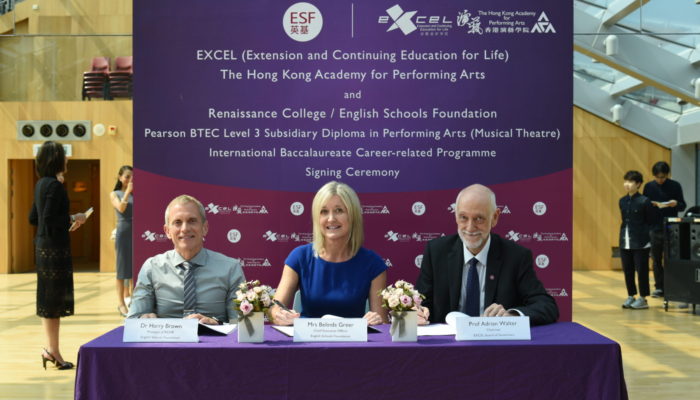 ESF and HKAPA launch Hong Kong's first Performing Arts IB Career-related Programme
中文 (香港)
The English Schools Foundation (ESF) and the Hong Kong Academy for Performing Arts (HKAPA) are pleased to announce the launch of an exciting joint programme to offer performing arts through the International Baccalaureate's Career-related Programme (IBCP). The course is for post-16 year-old students and will commence in the 2017/18 academic year.
Renaissance College (RCHK), a private independent school under ESF, has planned this joint venture with Extension and Continuing Education for Life (EXCEL) at HKAPA. RCHK was East Asia's first International Baccalaureate Career-related Programme (IBCP) school.
This new programme allows students to take BTEC* performing arts courses at HKAPA and IB courses with the CP core at Renaissance College or South Island School. This approach allows students with focused interests to take a specialised programme in order to prepare themselves for performing arts schools, colleges and universities.
The joint programme gives students access to a level of experience and skill within the performing arts, alongside the completion of a high school education with IB certification, that no other post-16 educational programme can provide.
"To do well in the performing arts requires a dedicated approach and access to an environment where experts and other dedicated students can be found," said Stewart Redden, Vice Principal of RCHK. "It is this professional environment that EXCEL provides at the HKAPA, and this is what ESF and Renaissance College want for students that have a passion for the performing arts."
The courses provided by HKAPA provide a wide range of performing arts modules for the BTEC course, including jazz dance, musical theatre performance, singing skills for actors and dancers, and tap dance.
"We aspire to develop our next generation holistically. Besides traditional academic subjects, we also provide career-based vocational learning opportunities," said Alice van Kapel, General Manager of EXCEL, HKAPA. "This collaboration precisely expand our options offered to secondary school students who are talented or have a passion in performing arts."
Students who are interested in joining this programme need to be 16 years of age when commencing the course and have completed either the IB Middle Years Programme (MYP), or gained five grades of C or above in International General Certificate of Secondary Education (IGCSE) examinations, or achieved equivalent qualifications. However, each application will all be judged on their own merit and an ability and interest in the performing arts is the main requirement for all applicants.
RCHK first introduced the IBCP in 2014 and welcomed its first batch of graduates last year with students gaining impressive university places. In March 2017, another ESF school, South Island School (SIS), became a CP accredited school, providing students with a number of BTEC options internally and the opportunity to access HKAPA and SCAD as well.
Sha Tin College (STC) is currently going through its verification process to become a CP school, and is expected to launch the programme in the next academic year with possibility to offer students more career-related study options that complement what is already on offer at HKAPA and SCAD. West Island School (WIS) is submitting its application to become a CP candidate school in May with the aim of also becoming a CP school.
"ESF is committed to developing and fostering the creativity in our students. By introducing the IBCP gradually across some ESF schools, we hope to develop and implement a personalised approach to learning that allows students to focus on creative projects and practical inquiries," said Belinda Greer, ESF Chief Executive Officer.
*The full name of BTEC is Business and Technology Education Council.