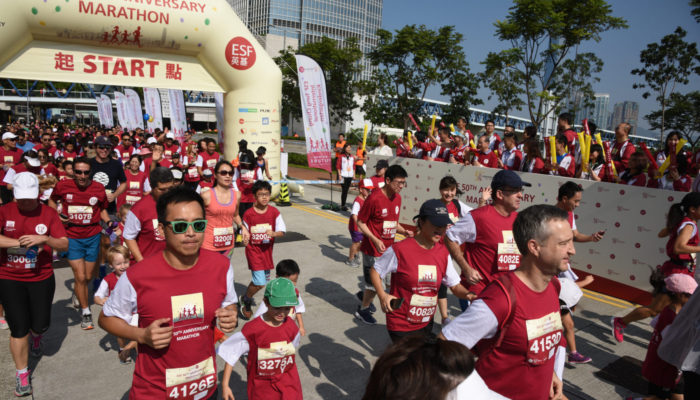 ESF opens its first ever marathon to celebrate 50th Anniversary
中文 (香港)
Over 2,000 participants joined the celebration
To celebrate the 50th anniversary, the English Schools Foundation (ESF) organised its first ever running event in Central today.
The event was supported by the Home Affairs Bureau and the Commission on Youth, and was open to both the ESF community and the general public. Race categories included 1km to 10km runs and a 1km family walk. Over 2,000 participants joined the celebration.
An opening ceremony was held in the morning. Officiating guests included Mr Matthew Cheung Kin-chung, Chief Secretary for Administration, Mr Kevin Yeung Yun-hung, Secretary for Education, and Mr Lau Ming-wai, Chairman of the Commission on Youth. From ESF, Mrs Belinda Greer, Chief Executive Officer of ESF, other ESF board members and senior leaders from ESF also attended the ceremony.
Despite the sweltering heat, runners unleashed their potential and demonstrated strong spirit. Brendan Kean from ESF Clearwater Bay School and Jennifer Whybrow from ESF Peak School were crowned champions in the 10km Individual Run Male Master 1 and Female Master 1 categories. They finished the race in a time of 0:33:22 and 0:45:47 respectively.
A community carnival was also held at Edinburgh Place, Central, with exciting performances and games booths organised by ESF teachers and students and other organisations. A wide range of music and dance was performed by our alumni and students from across nine ESF schools.
"To mark our golden celebration, the ESF 50th Anniversary Marathon serves as a sporting event promoting health and wellbeing, and at the same time, encouraging community involvement, promote sports culture and spirit and raise public awareness of caring and supporting children with special needs through our network," said Mr Abraham Shek.
The Marathon is part of the series of ESF 50th Anniversary celebrations to celebrate ESF's 50 years in Hong Kong.
"Established by the Government in 1967, ESF started with just two schools, Island School and Beacon Hill School. Now we are the largest international school system with 22 schools in Hong Kong serving 17,500 students from over 60 nationalities," said Mrs Belinda Greer. "Celebrating the golden jubilee is a remarkable milestone. It provides the perfect time for us to pause and appreciate the incredible community we have created through ESF."
"Education plays a vital role in shaping and ultimately, making history. ESF schools have enjoyed a starring role in Hong Kong's history," she continued. "We are an education system for Hong Kong's young learners and an important presence on the international school scene. ESF students have established themselves among the highest-achievers in the world. Every year, our graduating class achieve incredible results in the International Baccalaureate (IB) Diploma examinations and the Applied Learning programme. This is an important legacy for Hong Kong, because these young people are the leaders of the future."
Race results: Champions in different categories are as follows:
Category
Champion
School
Complete Time
10km Challenge Individual
Male Master 1
Brendan Kean
ESF Clearwater Bay School
0:33:22
Male Master 2
Roberto Veneziani
ESF Sha Tin Junior School
0:36:08
Male Senior
Thomas Kiprotich
ESF Discovery College
0:33:33
Male Junior
Kevin Xin
ESF Discovery College
0:45:37
Female Master 1
Jennifer Whybrow
ESF Peak School
0:45:47
Female Master 2
Patricia Greer
ESF Centre / Therapy Centre
0:48:49
Female Senior
Jessica Williams
ESF West Island School
0:47:47
Female Junior
Michelle Wong
Sponsors and supporting organisation
1:06:28
ESF Centre & ESL
Tze Chun Au Yeung
ESF Discovery College
0:38:15
10Km Overall Champions
Male Master 1
Brendan Kean
Clearwater Bay School
0:33:22
Male Senior
Thomas Kiprotich
Discovery College
0:33:33
Male Master 1
Chris Wharton
Peak School
0:36:05
Female Master 1
Jennifer Whybrow
Peak School
0:45:47
ESF Centre & ESL
Belinda Greer
ESF Centre/ Therapy Centre
0:47:45
Female Senior
Jessica Williams
West Island School
0:47:47
6km Individual Run
Male (Year 12-13)
Ernest Wong
ESF West Island School
0:22:55
Female (Year 12-13)
Megan Lee
ESF Sha Tin College
0:27:37
3km Individual Run
Male (Year 7-9)
Michael Brewster
ESF South Island School
0:11:25
Male (Year 10-13)
Swiss Duangthip
ESF West Island School
0:10:30
Female (Year 7-9)
Cherry Cheuk Yu Ng
ESF Sha Tin College
0:11:34
Female (Year 10-13)
Minji Kwon
ESF South Island School
0:13:12
Principal Challenge
James Schmitz
ESF Renaissance College
0:13:25
3km Family Run
Students – 2 in a group (Year 1-2)
Kaiman Lau & Elize Ho
ESF Peak School
0:17:31
Students – 2 in a group (Year 3-4)
Theo & Norman Ngao
ESF Sha Tin Junior School
0:14:15
Students – 2 in a group (Year 5-6)
Louis & Justin McLaughlin
ESF Bradbury School
0:13:35
Students – 3 in a group (Year 1-2)
Elvin Liao, Liao Xiaodong & Li Yanyu
ESF Kowloon Junior School
0:22:33
Students – 3 in a group (Year 3-4)
Callum, Vincent & Vivienne Ng
ESF Renaissance College
0:19:22
Students – 3 in a group (Year 5-6)
Ella, Olivia & Nick Phillips
ESF Glenealy School
0:18:15
1km Student Individual Run
Male (Year 1-2)
Sota Asaka
ESF Kowloon Junior School
0:04:55
Male (Year 3-4)
Kit Anderson
ESF Kennedy School
0:03:52
Male (Year 5-6)
Yan To (Toto) Lim
ESF Quarry Bay School
0:04:17
Female (Year 1-2)
Carreen Zhang
ESF Quarry Bay School
0:06:10
Female (Year 3-4)
Charline Felbabel
ESF Renaissance College
0:03:47
Female (Year 5-6)
Claudia Brunner
ESF Clearwater Bay School
0:03:45
1km Family Walk
ESF International Kindergarten (2 in a group)
Kerry & Anya Ngao
ESF Wu Kai Sha International Kindergarten
0:06:44
ESF International Kindergarten (3 in a group)
Federic, Charlotte & Fabienne Holive
ESF Abacus International Kindergarten
0:07:18
ESF Jockey Club Sarah Roe School (2 in a group)
Karin Wetselaar & Jenny Lingham
ESF Jockey Club Sarah Roe School
0:11:24
ESF Jockey Club Sarah Roe School (3 in a group)
Brandon, Charles & Susanna Goh
ESF Jockey Club Sarah Roe School
0:09:01
Last updated: 6 December 2017