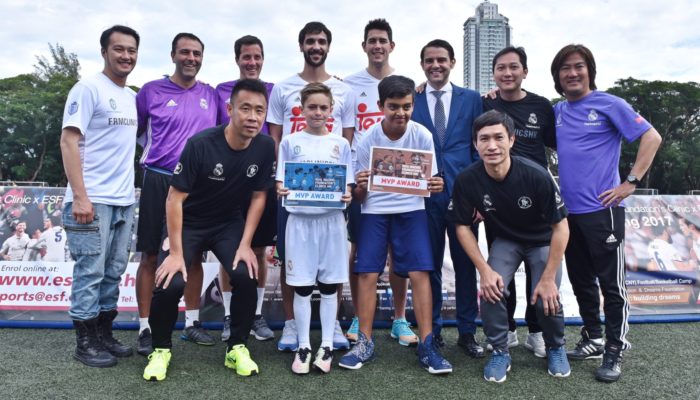 ESF students awarded MVP by Real Madrid coaches
中文 (香港)
The English Schools Foundation (ESF) and the Real Madrid Foundation joined forces to offer Football and Basketball Camps at King George V School (KGV) during the Chinese New Year. About 140 students were trained by ESF Sports coaches in collaboration with Real Madrid coaches who flew in specially from Spain for this camp.
Two students were recognised for their performances at the camps and were handed the Most Valuable Player Award (MVP) by the Real Madrid coaches. Andrea Fraschetti and Kyle Gidwani, both of whom attend ESF Sports classes, received the MVP award together with an invitation to train in Madrid this summer and visit the Real Madrid headquarters.
Andrea Fraschetti is a student at Renaissance College. He was selected to join the ESF Lions Football Academy in the summer of 2016. He instantly caught the attention of the coaches with his technical abilities and willingness to listen and learn. He was later invited to join the U11 Academy team, where he became an integral part of the squad which became league champions, League Cup finalist and HK Soccer Sevens plate winners. His coach, Barry Brown, calls him the "Wing Wizard" due to the way he utilises the final third of the pitch with his amazing skills and his eye for goal.
Kyle Gidwani is a student at KGV and has been a member of the ESF Tigers Basketball programme since he was seven years old. He attended weekly sessions at Kowloon Junior School and later advanced to Development Academy. His coach, Chris Banks, said Kyle is a very dedicated player who shows the right attitude to learning and developing his game through his athletic ability. He also states that Kyle has leadership qualities that motivates and inspire teammates around him. It is no surprise to Chris that Kyle received the MVP award.
For more information about the ESF Sports programme, visit our website at www.esf.org.hk, call 2838 2276 or email sports@esf.org.hk.