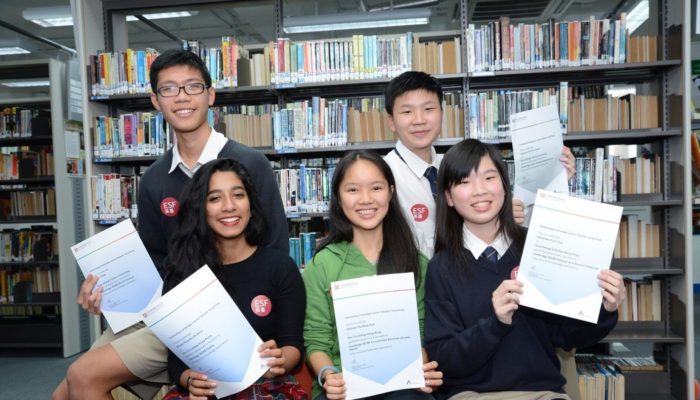 Ten ESF students attain "Top in the World" for Cambridge IGCSE
The English Schools Foundation (ESF) is proud to announce the exceptional achievements of students across five ESF secondary schools who were awarded "Outstanding Cambridge Learner Awards" by Cambridge International Examinations (CIE) for their fabulous performances during the June 2014 examinations of International General Certificate of Secondary Education (IGCSE).
Sampson Kwan, Julian Chow and Sharmane Tsui from King George V School (KGV) gained the "Top in the World" award for Additional Mathematics, World Literature and Chinese as a Second Language respectively. Sha Tin College's Shimali De Silva and Vanessa Kam were crowned "Top in the World" for Drama and Co-ordinated Sciences (double award). Five students from Island School (IS) were awarded the "Top in the World" award for Foreign Language Mandarin Chinese. They included Rachel Wong, Deborah Kwong, Jason Lin and Jeremy Tan who took the exam one year earlier when they were just Year 10.
Three students, Alice Ku from South Island School (SIS), Faye Chan from KGV and Karthik Subramaniam from West Island School (WIS) attained the "Top in Hong Kong" award for Enterprise, First Language English and International Mathematics respectively. Sonja Dossenbach from KGV received the "High Achievement" award for Foreign Language German.
The CIE "Top in Hong Kong" awards recognise outstanding performances in Hong Kong, apart from its "Top in the World" awards, which acknowledge students' exceptional performances worldwide. Students are also recognised for "High Achievement" based on extraordinary performances in subjects which are not widely taken by Hong Kong students.
Chris Durbin, ESF's Secondary School Development Adviser, said: "The fact that ESF students excel in a wide range of courses in the IGCSE proves that we value the individual interests and talents of our students."
Dave Kirby, ESF's Student Attainment Manager, said: "These are outstanding achievements and it is pleasing that the awards have been given to ESF students across a range of subjects and curriculum areas."
Roughly 1,000 students from KGV, IS, STC, SIS and WIS participated in examinations across over 30 subjects last year. 57% of all examinations taken were awarded either A* or A grades, which is the highest percentage ever for ESF. Please visitwww.esf.edu.hk/esfpublicexams/students for ESF students' examination results.
Appendix
Top in the World for Cambridge IGCSE – attendees at press conference
School

Name

Top in the World Award for

STC

Shimali De Silva

Drama

Vanessa Kam Tsz-wing

Co-ordinated Sciences (double award)

KGV

Julian Chow

World Literature

Sampson Kwan Sui-chun

Additional Mathematics

Sharmane Tsui

Chinese as a Second Language
In the photo from left to right: Julian Chow, Shimali De Silva, Sampson Kwan, Vanessa Kam and Sharmane Tsui