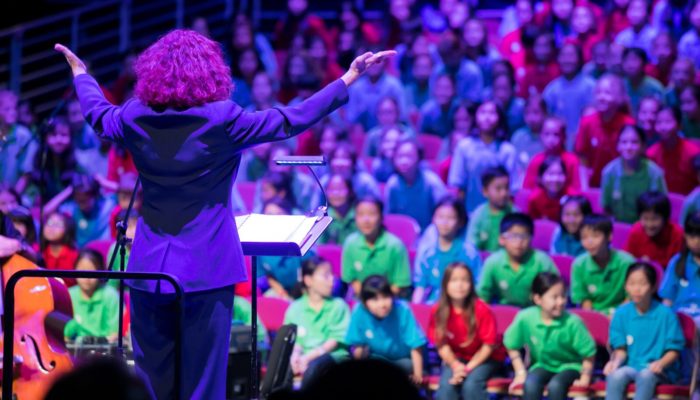 ESF primary students rock the 50th Anniversary Primary Choral Concert
The ESF 50th Anniversary Primary Choral Concert was successfully held on Friday, 17 March 2017 at Queen Elizabeth Stadium and welcomed a full house of guests. The primary choral concert, together with the secondary one in late February this year, are important events in the ESF 50th Anniversary Arts and Music Festival, drawing the ESF community together to celebrate 50 wonderful years of excellence in education in Hong Kong.
Led by Jacqueline Grant, Head of Music and Performing Arts at Kennedy School, about 750 primary students from across all ESF primary schools and private independent school showed off their excellent music talents on stage.
Two of the performed pieces, 'A Thousand Voices' and 'Time to Shine', were specially composed by Jane Engelmann, Peak School Performing Arts Coordinator, and David Benzie, Glenealy School Coordinator of Expressive Arts, respectively – which was another highlight of the night.
Click HERE to browse more photos.