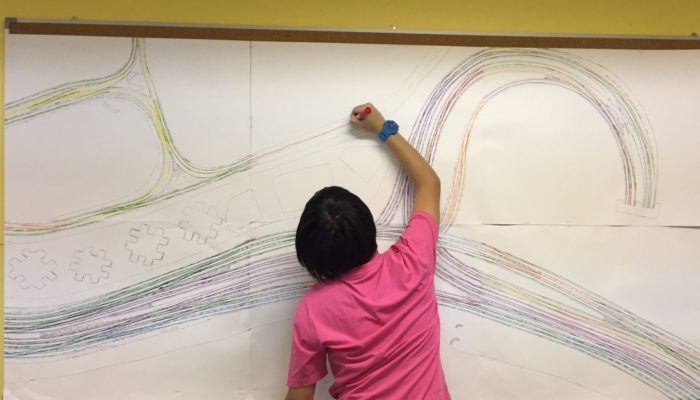 ESF SEN student holds first solo art exhibition
中文 (香港)
2 April is World Autism Awareness Day. We are proud to announce that Hon Shan Cheng, a student with autism from ESF Jockey Club Sarah Roe School (JCSRS), will be holding his first solo art exhibition throughout April.
The 19-year-old teenage artist showed signs of autism when he was a child, leading him to great difficulty in communicating and forming relationships with other people and in using language and abstract concepts. In 2003, Hon Shan joined JCSRS. With tremendous support from his family and school throughout the years, he saw a positive development and discovered his extraordinary talents in music and arts. He is able to turn his imagination into colourful paintings through his brush and pencil.
"Public may think Hon Shan is a teenager with special needs. However, the people who know him believe he is a gifted artist," said Vikki Cheng, Hon Shan's mother. "Hon Shan keeps drawing through the years – on papers, on walls, on sheets, from the corners of the city to delicate maps."
Running from 2 to 30 April 2017 at Art and Culture Outreach (ACO) in Wan Chai, Hon Shan will be showcasing around 15 of his excellent art pieces. Through the vivid colours and collages, we can see the city landscape from his point of view.
"Hon Shan reconstructs the city by observation, imagination, memories and drawing, providing another angle to understand the city we all live in," Vikki remarked. "I believe Hon Shan has the ability to see the world in different angles with two different eyes – one from a bird's eye view, while the other one observes the finest details like a macro lens."
To learn about about Hon Shan and his artworks, please visit https://honshancheng.wordpress.com/
Solo exhibition by Cheng Hon Shan
Date : 2 to 30 April 2017
Time : 12 noon – 7 pm (opening from Tuesday to Sunday, including public holidays)
Venue : Art and Culture Outreach (ACO)
Address : 14/F, Foo Tak Building, 365-367 Hennessy Road, Wanchai, Hong Kong (Exit B of Causeway Bay MTR station, opposite to Tin Lok Lane)
About ACO: www.aco.hk
Programme Enquiries: 6373 8128 Ms Chan (Email: cchikyee@gmail.com)