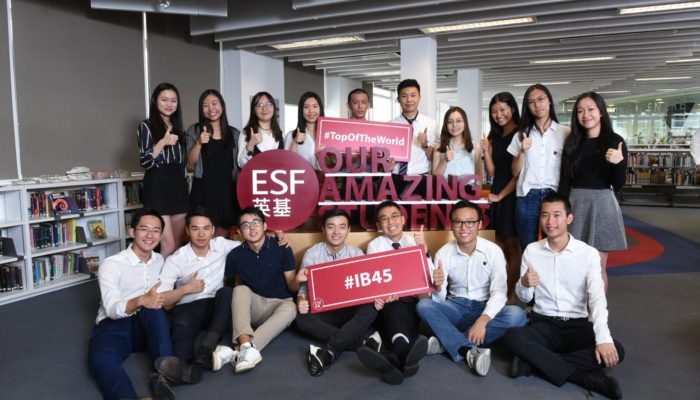 Record breaking results for ESF students
中文 (香港)
23 students achieve top marks in IB Diploma – the largest amount in ESF's history (updated: 7 Aug)

ESF students average 35.6 IB points – 5.8 points above the global average (29.8 in 2018)

59.7% percent of ESF students score 35 IB points or above – 33.5 percentage points above the global average (26.2% in 2018)
ESF has cemented its place as one of the world's leading education systems, the organisation's Chief Executive Officer, Belinda Greer, said today.
She was speaking as the International Baccalaureate released their results for 2019. ESF once again achieved results way above the global average – with 23 students achieving the top score of 45 points:
The ESF results are summarised as follows:
ESF results 

(May 2019)

Worldwide results

(May 2018)*

Students awarded the diploma (24 points or more)

933 students (97.2%)

78.2%

Average points score for all IB Diploma students

35.6 points

29.8 points (IBO 2018)

30 points or more

846 students (88.1%)

53.3%

35 points or more

573 students (59.7%)

26.2%

40 points or more

231 students (24.1%)

7.8%

45 points

23 students

(updated: 7 Aug)

259 students
*Worldwide results for the IB Diploma are for May 2018 as the full 2019 data is not available until November.  Statistics show that these percentages vary very little year on year.
"These are remarkable results – the best in our history. They are the culmination of years of hard work by the students and their teachers – and have been achieved thanks to the unstinting support offered to the young men and women by their families and friends. Today is a day for celebrating the achievements of these amazing students.
"The students who achieved the top score deserve our special congratulations. The IB Diploma is an incredibly challenging qualification, so to score a 45 is something that the students and their families should be very proud of.
"We have seen students at all levels, in all of our schools achieve great success today. When a family chooses ESF for their child's education we make them a very simple promise: all of us will work every single day, in every single class to help every single student be the best that they can be. These results show that we are making good on that promise.
"Today is about our students and their families. They are living our vision, they are the very best that they can be."
ESF Chairman, Abraham Shek, joined Belinda Greer in congratulating the students:
"These are incredible results, the most successful in our long history. I want to offer my congratulations to the high achievers, to every single student and their families and, of course, to all of the ESF teachers who have played such a significant role in the success we celebrate today."
This year, 23 ESF students achieved the maximum 45 points. They include: 
ESF Discovery College
ESF Island School
Megan LEE Nga Yin

Matthew LING Yan Pui
ESF West Island School
ESF King George V School
CHAN Wai Lam

Calvin LAM Pak Yiu

Matthew WONG Kwok Leong

Charming YEUNG
ESF Renaissance College
Russell LIU

Ethan TSANG Yik Hin

Bianca YUEN Sze Ming
ESF Sha Tin College
Yann CHAN Yeung Yau

FOK Jing Chen

Sammie LAM

Jonathan LEE Chun Yin

Megan LEE Tsz Ching

Cana LEUNG

Brian LI Shing Yin

Carliss LING Tsz Yin

Sherry WANG Xin Yi

Alex XIA Kun Hao

Jonathan ZEIN
Another 17 ESF students achieved 44 points. In 2019, over 169,000 students from around the world entered for IB Diploma examinations. Students choose six subjects, for which they can be awarded a maximum of seven points each. A further three points can be earned from an extended essay and a Theory of Knowledge course. At least 24 points must be achieved in order to qualify for the IB Diploma and students must successfully participate in a Creativity, Activity, Service programme (CAS) of their choice.
An overview of public examination results of ESF students in previous years can be viewed at: http://www.esf.edu.hk/public-exam-results/ 
Updated: 7 Aug