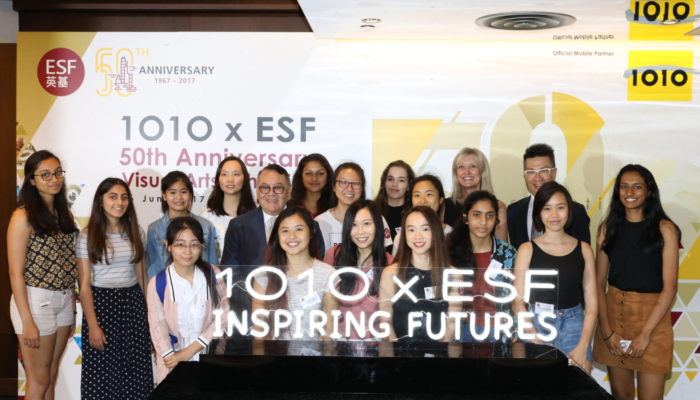 ESF showcases students' artwork to mark 50th Anniversary
中文 (香港)
For the English Schools Foundation (ESF), 2017 marks 50 years' service to Hong Kong. A series of events are organised throughout the year to celebrate ESF's world-class education, highlighting the incredible achievements of students, staff and alumni. Two events, the ESF Secondary Concert and ESF Primary Choral Concert, were successfully performed earlier this year. From June to July, a Visual Arts Exhibition will be held for the public.
Themed 'Views of Inspiration', the one-month exhibition features outstanding artwork from ESF students in Years 10 to 13 who have completed coursework as part of their iGCSE, BTEC* or International Baccalaureate (IB) studies. Three talks from educationalists and local artists will be held for the public.
The exhibition is part of the ESF Art & Music Festival, which is a public community launch for the ESF 50th Anniversary celebrations. The event is sponsored by 1O1O, a premium brand of CSL Mobile Limited, who shares ESF's objective to provide a platform for ESF students to present their unique inspiring vision in the form of visual art.
"Established by the Government in 1967, ESF started with just two schools, Island School and Beacon Hill School. Now we are the largest international school system with 22 schools in Hong Kong serving 17,500 students from over 60 nationalities," said Abraham Shek, Chairman of ESF. "Celebrating the golden jubilee is a remarkable milestone. It provides the perfect time for us to pause and appreciate the incredible community we have created through ESF."
"Education plays a vital role in shaping and ultimately, making history. ESF schools have enjoyed a starring role in Hong Kong's history," he continued. "We are education system for Hong Kong's young learners and an important presence on the international school scene. ESF students have established themselves among the highest-achievers in the world. Every year, our graduating class achieved remarkably impressive results in the International Baccalaureate (IB) Diploma examinations and the Applied Learning programme. This is an important legacy for Hong Kong, because these young people are the leaders of the future."
ESF has introduced the International Baccalaureate Career-related Programme (IBCP) at some of the secondary schools, offering opportunities for students who have a particular career path in mind. This builds on the success of Renaissance College (RCHK) who have collaborated with the Savannah College of Art and Design (SCAD) as part of their IBCP offer which saw the first students graduate successfully in 2016.
ESF has also launched a new joint programmed with the Hong Kong Academy for Performing Arts (HKAPA) to offer performing arts through the IBCP. The course is for post-16 year-old students and will commence in the 2017/18 academic year.
ESF seeks to deepen the partnership with the IB. By 2018, we will be the largest provider of the IBCP in Asia.
"ESF is committed to nurturing creativity and innovation, playing to students' strengths and interests. The IBCP supports a personalised approach to learning, enabling students to focus on creative projects and practical inquiries," Belinda Greer, ESF Chief Executive Officer, remarked.
Theme: Views of Inspiration
Date: 16 June – 14 July 2017
Venue: 1O1O Tsim Sha Tsui, 1/F, Shop 9-11, Hong Kong Pacific Centre, 28 Hankow Road, Tsim Sha Tsui, Kowloon
Opening hours:
9:30am – 9:00pm (Monday to Saturday)
10:30am – 8:00pm (Sunday and public holiday)
(open to general public)
Website: www.esf.edu.hk/event/esf50-art-exhibition/
Event sponsor: 1O1O, the premium brand of CSL Mobile Limited
For more information on ESF's 50-year journey and other 50th Anniversary celebrations, please click here: www.esf.edu.hk/esf-50th/
*The full names of iGCSE and BTEC are International General Certificate of Secondary Education and Business and Technology Education Council.