Through our schools and ESF Centre, we offer teachers and education assistants access to a uniquely vibrant local and regional professional development community, in which all colleagues are engaged.
We see professional development as actions focused on improving the quality of learning and teaching within the school community. We see professional development as happening at the intersection of school reform, personal professional learning, and school development.
We recognise the focus of Continuous Professional Development (CPD) is equally about the individual and the institution, and about engaging and contributing.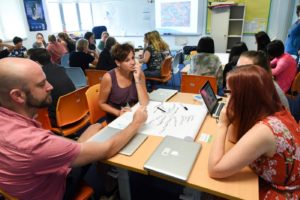 We seek to reduce impact on the curriculum caused by excessive teacher release by supporting a diversity of adult learning methodologies, and developing a community in which learning is a way of working.
Some of the continuing professional development opportunities offered by ESF include participation in, and contribution to:
In-school, regional and international IBO teacher development workshops;
Regional and international education conferences;
The opportunity to participate and contribute to professional learning within schools, and within the wider ESF community;
Partnerships with local and international universities;
Funded action research projects;
Internally offered short courses;
Curriculum development networks;
Participation on and contribution to a range of working groups;
ESF-wide central professional development events;
Professional reading circles; and
Working alongside, together with a development oriented performance management process, and mentoring – coaching