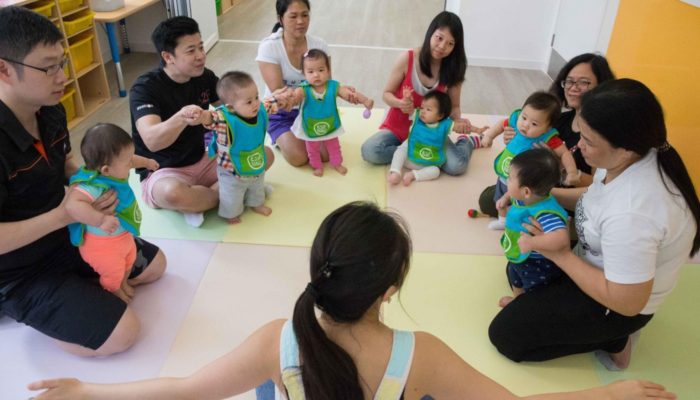 ESF opens new ESF Language & Learning Centre in Wan Chai
ESF Educational Services Ltd. (ESL), an affiliated company of the English Schools Foundation, announces the grand opening of its new ESF Language & Learning Centre in Wan Chai. This purpose-built centre is the ideal learning playground for young learners aged six months to three years to play, interact and learn in English.
"My daughter and I always look forward to our mornings at the ESF Language & Learning Centre," says Mrs Yam, mother of a 16-month old ESF Early Learner. "We have so many new experiences to interact with other little ones and a real opportunity to play together with so many wonderful and imaginative toys and resources. I really enjoy it and I can tell my daughter does too."
The centre hosts ESF Early Learners English language playgroup programmes. Class sizes are small, with no more than eight in a group, to give each child the full attention they deserve. Since its soft opening in late April, the centre has received an overwhelming amount of enquires from interested parents who are looking for a suitable learning space for their child to grow and learn.
"We are very excited to know that parents are interested in bringing in children to our English playgroup classes in our new language and learning centre," says Ann Pearce, Chief Operating Officer of ESL. "Our purpose-built facility provides a stimulating environment for young children to nurture their curiosity and enjoyment as they embark on the initial stages of their learning journey. They will be immersed in an English language environment since young which lays the foundation for future English learning."
Supported by ESL's 20 years of experience in providing Hong Kong students with top-notch English language programmes, ESF Early Learners playgroups have an extraordinary amount of resources and expertise at its fingertips. From Monday to Saturday at the centre, teachers deliver an engaging and safe play-based learning experience for Hong Kong children.
"We believe that children learn and develop through play and this underpins all of the activities that are offered at the new ESF Language and Learning Centre. Children and their carers have the opportunity to experience a variety of multi-sensory activities which stimulate their cognitive, sensory and social development. Our playgroups provide the kind of stimulating play environments that are not always easily accessible in Hong Kong.", said Nicki Holmes, ESF Educational Psychologist.
PURPOSE BUILT
The new centre is purpose-built to accommodate and promote learning. Chosen for its bright open spaces, ESF Language & Learning Centre took the opportunity to tailor-make classrooms and shared spaces making them ready for curious and developing minds. Drawing on expertise at ESF, the centre was developed to meet the various needs of young learners.
A run around new indoor play equipment, down the slide and through the tunnel helps children to develop coordination and movement. The play area encourages young ones to use their imagination when role-playing everyday experiences. By filling their shopping cart, sifting and moulding the sand or discovering a new costume in our creative costume box, early learners can explore the world around them in the safe environment of the centre.
Classroom spaces were being specifically developed to be child focused, while remaining flexible for other uses. Walls can open and furniture is movable to provide teachers with full flexibility when teaching. Multimedia technology has also been considered while iPads and projectors are available for use in the classrooms.
GENTLE INTRODUCTION TO LEARNING
ESF Early Learners playgroups expose children to a range of enriching activities to develop their curiosity and understanding of the world around them. Through sensory play, music and movement, arts and crafts, simple baking, stories and songs, students will be engaged in a general introduction to learning while accompanied by a familiar adult.
"Our playgroups run on a flexible schedule," says Joyce To, ESF's Language & Learning Centre Teacher in Charge.  "Children can attend once, twice or three times a week.  Depending on age, classes are either 1.5 or 2 hours long and are led by qualified teachers who bring a wealth of early childhood experience."
ESF Early Learners provides an excellent opportunity for students to gain awareness and confidence in an international school setting, which will ease the transition to kindergarten.  Through our playgroups, students establish routines, develop concentration skills and learn how to interact with others as they explore and make new friends.
ESF Early Learners' classes focus on a specific theme, which is then explored in various ways at age appropriate levels as they progress toward key developmental milestones.  With this in mind, sessions usually involve the following:
Welcome, free play
Circle time, for acquiring social and interaction skills
Stations for structured learning, including creative play and thinking skills and sensory play to provide the child with individual attention in a group setting
Story & snack time
Games for developing fine motor skills and five senses recognition
Closing and farewell
For more information about the ESF Language & Learning Centre and/or ESF Early Learners, please contact the centre directly at 2838 2276 or by email at info@esfearlylearners.org.hk.   More information can be found on our websitewww.esfearlylearners.org.hk.