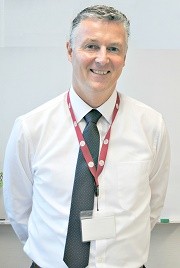 Dear Colleagues
I mentioned in my last bulletin that I was looking forward to my first Dragon Boat racing event. I am pleased to report that the ESF team competed at Stanley and did us all proud. The team finished fourth at the Stanley International Dragon Boat Championships last week, my view from the beach wasn't great but I'm sure I saw Chris Durbin paddling like a good un. Well done to all who took part.
It was with great pleasure that I accepted the invitation to attend the Island School Spirit Fund lunch earlier this week. Honoured guests included Abraham Shek the Chair of the ESF board and also a number of Island School Alumni. The Year 12 BTEC students prepared each course and the quality of the preparation and presentation was excellent. The students also catered for a second sitting of over 100 staff and guests. The whole event was hugely successful and the students learned a great deal, not sure that my suggestion of repeating the event each week went down as well as the great food!
Catering and hospitality is the main business of the Nesbitt Centre based at Cafe 8 at Central Pier. The centre provides vocational training and work experience for young people with learning difficulties and is well worth a visit. I was invited to be part of a cheque presentation ceremony by Tsing Yi Kindergarten to the centre and I met a number of ESF former students who are employed at the cafe. The children from Tsing Yi had a great experience and presented a cheque to the value of HK$29,045 all raised by parents at the Kindergarten, a big thank you to all the parents and to the staff.
I always like to reflect on the achievements of our students and not a week goes by without a reminder of the range of talent we have in our schools. I noted from communications this week that Sarika from Renaissance College has won a Harvard Book Prize Scholarship and will be spending the summer studying at Harvard whilst Mali from Island school has been in the news as she aims to compete for Hong Kong in lacrosse at the World Cup next year, well done to both.
When I first arrived in Hong Kong, I recall being amazed by the range of opportunities our students have to travel and explore other countries as part of their learning journey. I believe that this is a strength of our curriculum offer and benefits our young people with great experiences. In order for this to take place, it is vital that we place student safety as the highest priority and take all steps to ensure students are safeguarded whilst participating in these activities. I was delighted therefore to hear that ESF picked up an award at the International SOS Duty of Care Award Ceremony held earlier this week. Thanks to all staff in schools for continuing to ensure health and safety remains such a high priority and to those colleagues who attended the event and picked up the award on behalf of ESF.
As this will be my last blog for a few weeks I would like to take the opportunity to thank colleagues for all their hard work this school year, for the warm welcome I have received visiting schools and for making such a positive difference to the lives of our ESF students. Have a well earned and relaxing break.
David Whalley