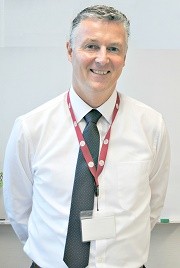 Dear Colleague
As the newly appointed Director of Education for ESF I would like to take this opportunity to thank you for the warm welcome and the time many of you have taken to introduce yourselves. In order to further develop strong lines of communication between schools and the ESF centre, I intend to write a blog on a fortnightly basis, please comment as appropriate, feedback is always welcome.
A little background information about myself, I started my career in education as a physical education teacher in 1983 and have worked in both secondary and primary settings. I have had two headship posts, have inspected schools as part of Ofsted and my most recent post was Head of Learning in Calderdale, West Yorkshire in the UK. I had never been to Hong Kong prior my appointment and have found out quickly that the weather is very different to the north of England. I tried to buy short sleeved shirts from M&S last week only to be told that there were none in stock because "it's winter"! Given that it was 28 degrees at the time I found this surprising.
My wife and daughter have settled well and are enjoying their new life in HK, Sophia attends the Island School and has already made some good friends. I also have two other children, Joanne is a writer and presenter for the Travel Show on BBC World, you may have seen her suspended on a zipwire in Wales or exploring the disused underground system in New York. Robert is completing his studies to be an architect and has an eye on building something tall in Hong Kong.
When I am not on ESF business I enjoy running and watching sports, I have a season ticket for Burnley Football Club but fear I may miss a few games as it is a 14000 mile round trip, I will have to make do with the internet.
I have now been with the organisation for ten days and have had the pleasure of meeting Principals, Chairs of School Councils, staff within schools as well as ESF staff at the centre. I have even had the opportunity to meet some wonderful students whilst visiting the Kowloon Learning Campus. My first impressions are of a highly committed and talented workforce both in schools and within the centre and of an organisation with a clear strategic plan for improving outcomes for all our young people.
I will have visited all ESF schools and kindergartens by the end of this month and am really looking forward to the opportunity to meet with Principals, staff and students and discuss how best to implement the strategic plan so that each learner can be the best that they can be.
From all I have seen, heard and read in my short time in Hong Kong, it is clear that ESF has many strengths with perhaps the greatest being the combined expertise around leadership and teaching and learning. I used to tell the story in assembly of the strength of acting together, you will recall the Year 5 child being asked to snap a single chopstick which he or she would do with gusto. Then being asked to do the same with 6 chopsticks bound together, it was always impossible even though the task was always attempted with much enthusiasm. At a time of change, as it always seems to be in education, our greatest asset will be our ability to act as one learning community to face challenges together.
As I continue to 'get up to speed' on all things ESF, I intend to focus on progress and provision for our most vulnerable learners, I look forward to seeing some innovative practice in the Learning Support Centres and discussing some of the challenges as we move towards being an inclusive learning family.
Finally, please let me know of any special events in your schools or celebrations of student or staff achievements, I know there are many but would very much like to attend and support if my diary permits.
David Whalley