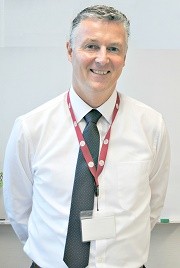 Dear Colleagues
I will begin the final blog of this half-term by reflecting on the International Schools Festival that took place last week and was supported by so many colleagues from ESF. It was somewhat reminiscent of the old Wembley Stadium on cup final day as the venue become more and more crowded, I am told that over four thousand visitors attended, it felt like a lot more!
I thank all those who gave their time to help parents understand more about ESF's admissions policies, curriculum and study pathways. There is no doubt that ESF remains the most popular destination of choice for many families in Hong Kong and the clamour for information was overwhelming. Again, many thanks for the support and the suggestions of possible improvement for next year.
I managed to extricate myself from the crowds at the festival and was pleased to make my way to KGV for the ESF primary and secondary football tournaments. I was hugely impressed by the quality of the players, the organisation and the commitment of staff and families to support the event. There were a number of very close finishes including the trauma of penalty shoot-outs to decide the overall winners, this is always cruel on the losers but seems to be the best way to decide matches. Certainly better than the 1964-65 European Cup quarter-finals, when Liverpool and Cologne played out two 0-0 draws and the captain Ron Yeats guessed right in the centre circle following the toss of a coin. Thanks to Jim Hackett and his team for their splendid support in making the event such a success.
Other individual successes from across ESF include Karina Poon from South Island School who had a fantastic set of iGCSE results in the summer and then went on to win at the "21st Century National English Speaking Competition" in Beijing. Megan Devenish from KGV has won bronze in this year's World Championships of Performing Arts (WCOPA) in Long Beach, whilst two musicians, Harmeet Bhatia from West Island School and Joshua Francis from South Island School have seen their album rise to third on the Hong Kong iTunes chart. Very impressive achievements from all and great to see and hear about.
On the staffing front I am delighted to inform colleagues that the process to recruit an EP has been successful and Jean McPherson will be joining the SEN and inclusion team from the beginning of the new year. Recruitment has also been under way this week to appoint an early years and primary SEN adviser, I will be in a position to announce the successful candidate after the October break. It is with some sadness however that I inform colleagues that Bec Clements has announced she will be leaving ESF at the end of the academic year and is returning to Australia. Clearly Bec will be missed by us all and I am sure colleagues will wish to pass on their personal good wishes over the remainder of the year. Her post will be recruited to after the October break.
As part of my quest to deepen relationships with partners as outlined in the strategic plan I managed to get to SCAD earlier this week. I was made very welcome despite being placed in a prison cell on arrival, for those who know the history of the building they will understand why! The facility is really conducive to those students with an interest in creative study and I am aware that there are a number of opportunities for students and staff to visit the college.
Workshops are held monthly, the next being 15 October, 12 November and 10 December, details of which are on the SCAD website. There is also a summer (2017) programme as well as joint enrollment options.  If you have an interest in exploring these opportunities please contact the admissions executive director Kalen Curtis on: kcurtis@scad.edu
I hope all manage to have a relaxing break and I look forward to meeting many colleagues at the CPD events on the 17 October.
David Whalley