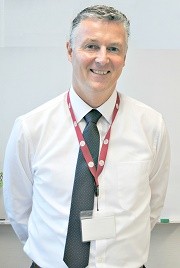 Dear colleagues,
As I sit here typing, I am reminded of the very different weather conditions that occurred  last Friday with notice of the T8 being raised before students had to travel to school. This is always disruptive but I wanted to acknowledge the work of Julie Wong in admissions who realised that the Year 7 admissions written test for students external to ESF was planned for the Saturday and a number of families were flying in from overseas. I ventured to ask "how was it going?" and realised there was a lot to rearrange, well done to Julie and the team as they managed to organise a highly effective contingency plan and all was well.
Hopefully that is the last typhoon of the season as I know many primary schools have school camps arranged for the coming weeks. Good luck and thanks to all staff who have volunteered to attend and support the students to have a memorable experience, I met with Mina yesterday on her return from school camp, she was obviously delighted to spend an hour or so discussing her PRD process, just what you need after three days at camp!
I bumped into a group of Island School students whilst visiting Peak School earlier this week, I asked if they had been playing sports, "oh, no" was the reply, "we have been practising for the sedan chair race!" I must admit that this is an event that is new to me, so much so that the students asked me if I knew what a sedan chair is! I assured them I did and they outlined the event which takes place on Sunday. I was informed WIS students are also involved in supporting the Matilda International Hospital in raising funds for good causes and lesser known charities. I will hopefully go along and support, if you want to know more or make a donation there is a website with details about the race and how to contribute.
Good luck also goes to the WIS swimming team who will be taking part at the charity swim event being held at Repusle Bay, also on Sunday. The Community Chest Wheelock Swim for Millions 2016 will be part of the beach carnival and I am sure the sun will shine to make this a successful event, thanks to Richard Lant for organising the team to take part. I am also aware that the Terry Fox Run is to be held at RCHK on Saturday, 5 November. There is still time for staff at ESF to be involved, with all proceeds being donated to support cancer research. If you are interested or would like to know more please contact Macy Lau on macy_lau@alumni.sfu.ca
Just to complete the rundown of events this week, schools are reminded that ESF students have been invited to visit Sotheby's in Hong Kong, tomorrow to view the Shakespeare's First Folio exhibition which is on display. The exhibition is open to the public and admission to the exhibition is free.
I will be attending an event next week that explores the links between local and international schools. I am aware that many ESF schools have links with the local sector and that much of this work is ongoing. I would be particularly interested to have a dialogues with principals about how this could be developed with the focus being around school improvement and how colleagues can learn from each other. I will report the findings and outcomes from this meeting and ask for input from any school that is interested in developing this theme.
I hope Bill Garnett will forgive me for this but he brought me down to earth with a bump the other week. The school were kind enough to invite me to be involved with their extra-curricular sports club, I donned my claret and blue shirt and jogged out to meet the pupils, "I didn't know you were an Arsenal man", quipped Bill, I realised that maybe my team and their colours is lesser known in New Zealand than I first imagined, life is all about learning.
David Whalley