Founded : 1967
Age range : 11 to 19
Number of students : 1,200
Curriculum : (I)IGCSE, IB Middle Years Programme, IB Diploma, IB Career-related Programme
Principal : Stephen Loggie
At Island School we do something different. Our focus is on igniting a passion for learning in every student. Teaching students facts and figures is no longer enough for them to succeed once they enter higher education and the workforce. We encourage students to problem solve, question and think creatively with new concepts and ideas. Students are encouraged to become resourceful, adaptable and confident learners.
Our academic record is excellent with students going on to many of the foremost universities and colleges in the world. You will find details of the curriculum and qualifications on offer on our website. In the senior years students can choose to study IB Diploma, IB Careers and BTEC courses. Island School prepares students for these qualifications with a broad-based middle school curriculum including IGCSEs and a wide range of exciting options in our unique Futures curriculum. Our aim is to help students develop a passion for learning in a range of areas, whether it be law or robotics and coding or music production.
Hear what students and teachers say about Island School:
Join us on a virtual tour of the Tai Wai campus here:
Address:
20 Borrett Road, Hong Kong (permanent campus currently under redevelopment)
Temporary campuses:
Island School Sha Tin Wai (Years 7, 8, 12, 13)
Pok Hong Estate, Area 5A, Sha Tin, New Territories, Hong Kong (MAP)
Island School Tai Wai (Years 9, 10, 11)
Sun Chui Estate, Sha Tin, New Territories, Hong Kong (MAP)
Tel: +852 2524 7135
Fax: +852 2840 1673
E-mail: school@online.island.edu.hk
Website: www.island.edu.hk
Zone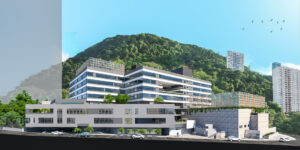 Discovery Bay (shared with West Island School)*, Mid Levels (including Kennedy Road west of the Hopewell Centre), Old Peak Road, Conduit Road, Robinson Road as far as Castle Road, some of Central District served by Glenealy School and the Peak. Tsing Yi Island. West Kowloon bordered by Ferry Street and Tong Mi Road to Lai Chi Kok Road, north of Boundary Street and west of Tai Po Road, extending west to Tuen Mun except for the area of Tsuen Wan that is part of Sha Tin College zone (see Sha Tin College).